Angelo Dundee 1921-2012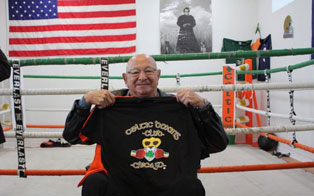 Angelo Dundee at the Celtic Boxing Club Chicago
Angelo Dundee was born Angelo Mireno on August 30, 1921 to parents of Italian descent in Philadelphia, Pennsylvania. His father was a railroad worker and Angelo was the eighth of nine children.
Angelo changed his last name to Dundee after his older brother, Joe, fought professionally under the name Johnny Dundee. This was their tribute to a former featherweight champion with the same name. Angelo's other brother, Chris, also adopted the Dundee for his last name. They decided to change their last name to hide the fact that they worked professionally in boxing from their parents.
During World War II, Angelo started working as a cornermen at military boxing tournaments. He was stationed in England while in the Army Air Forces. After the war he served an apprenticeship at Stillman's Gym near the old Madison Square Garden. It was there that he learned his craft from veteran trainers like Ray Arcel, Charley Goldman and Chickie Ferrara.
He then moved to Florida where in the early 1950s he teamed with his brother Chris to open the Fifth Street gym in Miami Beach. This is where their longtime roots would take hold and became their longtime boxing base. Angelo was a trainer and Chris as a promoter of the boxing events. Chris would eventually enter the Boxing Hall of Fame as a promoter in 1994.
This is where boxing legend would start in the late 1950's. Angelo ran into a young Cassius Clay and started giving him pointers in perfecting his boxing skills after his first bout. This chance encounter would turn out to be one of professional sports most legendary trainer, cornerman, fighter relationships in boxing history.
Angelo was the best known for his ability to inspire fighters at the right moment to turn events around during a bout and to be able to change strategy on the fly. One moment early in Clay's career, Cassius was briefly knocked down at the end of a round. Dundee realizing his fighter needed more time, he "discovered" a tear in Clay's boxing glove and asked the referee for more time to find another one. This allowed for Clay to regain his composure and finish the fight. Clay went on to win in the next round when he knocked Cooper out.
Another of his tricks was to obscure the ref from seeing the condition of his fighter while he cleaned him up for the next round. These skills and quick thinking is what made him one of the best cornerman in the history of the sport.
Dundee would go on to be the cornerman for some of boxing's most legendary fights. Dundeee was in Ali's corner for the
Fight of the Century
, the
Rumble in the Jungle
and the
Thrilla in Manila
. These memorable events brought boxing to a world wide audience and Ali to international fame.
He was in Sugar Ray Leonard's corner for his
"No Mas"
match against Roberto Duran as well as other memorable fights against Thomas Hearns and Marvin Hagler.
Angelo would eventually be reunited one more time for Muhammad Ali's 70th birthday in Louisville, KY. Angelo would pass shortly after due to complications acquired on the flight home from the party.
Besides his son, James, Dundee is survived by his daughter, Terri, six grandchildren and one great-grandchild. His wife, Helen, died in 2010.
Sadly Angelo passed shortly after his visit and training session at our Club. The Celtic Boxing Club of Chicago honors the memory of Angelo Dundee.
Career Highlights:
• Was regarded as one of the sport's great ambassadors.
• Started in boxing with brothers Joe and Chris.
• Brothers changed last name from Mirena to Dundee so parents wouldn't know they were boxers.
• Inducted into the International Boxing Hall of Fame in 1994
• Career that spanned six decades, training 15 world champions
• Trained some of boxing's greatest including: Muhammad Ali Sugar Ray Leonard, Carmen Basilio and Jose Napoles.
• Was an advisor to George Foreman when he regained the heavyweight title at age 45.
• Taught boxing technique to Russell Crowe for his role as the 1930s heavyweight champion Jimmy Braddock in the 2005 movie "Cinderella Man."
• Was able to attend Muhammad Ali's 70'th birthday party before his death a few weeks later.
Resources:
Muhammad Ali's former trainer Angelo Dundee dies at 90
Tribune News Services - Chicago Tribune
February 1, 2012
Angelo Dundee, the brilliant motivator who worked the corner for Muhammad Ali in his greatest fights and willed Sugar Ray Leonard to victory in his biggest bout, died Wednesday in Tampa, Fla. He was 90.
[Read More]
Angelo Dundee, Ali's cornerman, dead at 90
The Associated Press - cbsnews.com
February 1, 2012
Angelo Dundee, the brilliant motivator who worked the corner for Muhammad Ali in his greatest fights and willed Sugar Ray Leonard to victory in his biggest bout, died Wednesday in Tampa, Fla. He was 90.
[Read More]
Angelo Dundee, trainer of Ali and other boxing champions, dies at 90
Matt Schudel - Washington Post
February 2, 2012
Angelo Dundee, a boxing trainer of matchless cunning who guided Muhammad Ali's career for two decades and who worked in the corner with Sugar Ray Leonard and more than a dozen other world champions, died Feb. 1 in Clearwater, Fla., after a heart attack.
[Read More]
Hall of Fame trainer Angelo Dundee dies
ESPN.com news services
February 2, 2012
There was no way Angelo Dundee was going to miss Muhammad Ali's 70th birthday party.
The genial trainer got to see his old friend, and reminisce about good times. It was almost as if they were together in their prime again, and what a time that was.
Dundee died in his apartment in Tampa, Fla., Wednesday night at the age of 90, and with him a part of boxing died, too.
[Read More]